Lovely photos by SueJay Photography
This isn't a wedding related post, unless you want to buy someone a very lovely wedding gift!
Its just to tell you about a photographer I met recently, Sue Gutteridge.
What amazed me the most was her ability to capture animals so well,
especially deer, the shots are so lovely. My personal favourite is the smiling donkeys.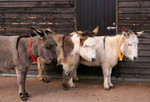 There is a selection on the website – www.suejayphotography.com,
and if you get a chance its well worth visiting Sue at one of the exhibitions she will be attending.
Will keep you posted with other lovely work I have recently found : )