Unusual cake toppers…..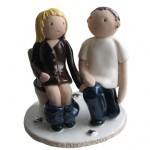 When I tell people what I do, making wedding cake toppers, the one question I get asked the most is what is the most unusual topper you have had to make. I get asked for pets, fishing rods, uniforms, signposts, wellies, musical instruments but this one always wins. I had to make the bride to be sat on the toilet with the groom down on one knee proposing. It was a surprise for everyone at the wedding including the groom, but that's how he proposed and the bride wanted to share her funny story.
The list really is never ending of what makes a topper personal to each person. They can be more than hair styles and clothing they can be a reflection of what makes you who you are. Which is a lovely thing to show the Grandchildren!